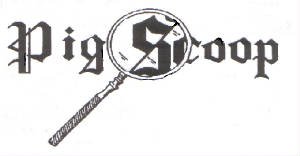 Coming out quarterly each year, the Pig Scoop is filled with:
Special Interest articles like: The Sixteen Wheeler Pig, My Pig The Hero, How To Discipline A Rowdy Pig, Planting a Garden Just For Them, Sunday's Best, and The Twilight Zone of Cavies.
Cartoons like: It's Either The Pig Or Me, Decisions...Decisions, Baby Annoucements.
Jokes: Foreign Language, Psychiatrict Help, Ink and so much more.
Health Articles: (suggestions for over the counter products you can use to buy you time to get your animal to a vet), Vitamins & Minerals with their value, Medicine box for Emergencies.
Tips: How to Wrap A Long Hair, Show Terms, Over Night Stay, Going on Vacation, and so much more.
These are just a few subjects found in our wonderful newsletter called, "The Pig Scoop". Its written by cavy owners just like you and by other professional fanciers.
Want a copy? Of course you do, get a past issue for free or one of our Complimentary Issues by emailing the Editor below. Send us you name and postal address and Ask for your FREE copy now....