I am a member of the American Rabbit Breeders Association. I am licensed with that association as a Cavy Judge and registrar.
I have about 70 fancy guinea pigs, which is almost a full time job in their care and showing. I currently have Americans, Abyssinians, Teddies, Peruvians, Silkies, and Coronets, and Alpacas. I breed to show and most of my animals are fully (straight breeds) pedigree stock. Some are not but a pedigree can be given on them.
I am dedicated in providing healthy robust cavies with personality and agility. I am also a promoter of the Standard of Perfection and dedicated to improving each breed. Occasionally, I have stock for sale. If you're interested, just contact me. Meanwhile, come look at some of my breeders.
| | |
| --- | --- |
| I'm known as the "Teaching Judge". | Here I am, after judging a cavy show with the 'Best In Show' Blk/Wht Silkie winner. Whew, what a task this is. I'm currently not this heavy and my hair is a lot shorter now. I'm a licensed cavy judge with the American Rabbit Breeders Association. I love judging and enjoy meeting new people at the shows. |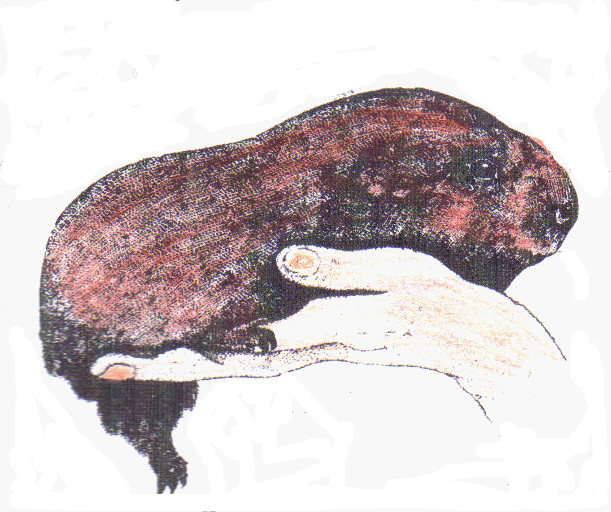 Chocolate American

I make rosettes to give away to guinea pigs clubs for their shows.
I'm the Secretary/Treasurer of a local guinea pigs club located in Jacksonville called "North Florida Cavy Fanciers". It's beeen around since 1983. I'm Editor of their newsletter called, "The Pig Scoop". I've published over 83 issues so far.
I'm also Administrator & Moderator of our Rare Varieties & Breeds Group Message Board. You can find a link to this on my Favorite Link Page.
I love youth and judge many youth shows in our state (Florida). I've also judged a national Specialty show for ACBA. I've judged many out of state shows: Washington State, Texas, Georgia, and Michigan.
I've helped our National Non-Recognized Cavy Club to write their current standard on "Skinny". This will be presented to any Skinny breeder for approval before presenting them to A.R.B.A.
I have designed a web site for the Rare Varieties & Breeds Group. You can take a look at this by clicking on the web link on my Favorite page. It's wonderful. If you are fascinated by the rare colors and breeds, come join us. You'll be in for a big surprise.